Installation
To install WWChat, follow this LINK and choose your preferred Android app store, then follow instructions there.
Sign In and First time operations
If you already signed up for a WWChat user, you just need to fill your email and password and press the SIGN IN button to access the recent activity page.
Note: if you did not logout and email and password are already filled in, like in the following picture, you just need to click SIGN IN.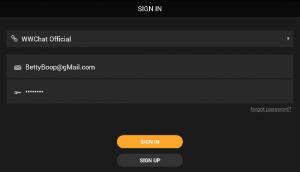 Otherwise, if you don't have a WWChat user, first thing to do is to SIGN UP, that means to register your new WWChat user.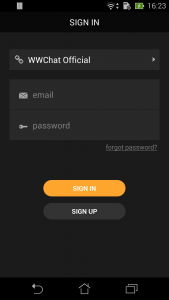 This is first screen you will see after installation.
WWChat Official: Allows to change Web server address, it's not relevant unless your WWChat usage needs special features.
SIGN IN: If you already are a registered WWChat user, fill in email and password then press SIGN IN.
SIGN UP: If you want to create a new WWChat user, press SIGN UP (No need of email and password right now).
Sign Up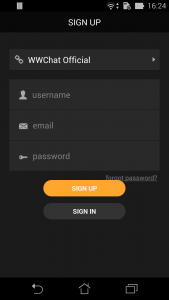 To SIGN UP, fill in UserName, eMail and Password then press SIGN UP.
Note: If you get messages telling that user or email already exist, you must change them then press SIGN UP again.
For instance: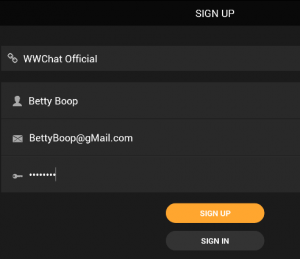 Once registered, you can add your first contacts: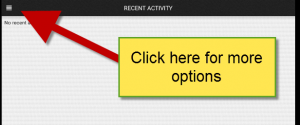 This brings you to MAIN MENU
Main Menu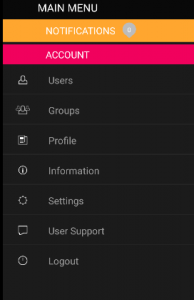 NOTIFICATIONS: Shows the total number of unread messages. Clicking there you will access the "Recent Activity" page.
USERS: Allows to search and add contacts. You can also start chatting from there.
GROUPS: Allows to search groups and start chat conversations in a group.
PROFILE: Here you can add more information about yourself and add your profile picture.
INFORMATION: It's where WWChat team posts global informations.
SETTINGS: Where you can change default parameters, i.e. language or hints while typing.
USER SUPPORT: A direct link to WWChat assistance. Feel free to contact us!
LOGOUT: To disconnect your account from WWCHat services. Once disconnected you will not receive new notifications. You can LOG IN again filling your email address and password, no data is lost.
Users
During first access, users list is empty: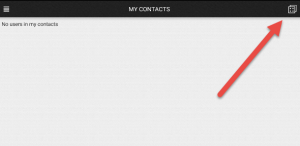 To add new contacts, click for the sub-menu (top-right of page)

MY CONTACTS: brings you back to previous window
SEARCH: allows to find users by user name
EXPLORE:  allows to find users
Search Users

Type the name, or part of the name to find a specific user.
Leave it empty to see all users.

Click on user to inspect it or to open a chat conversation.
Explore
Here you can choose sex, age and status of users and then browse them: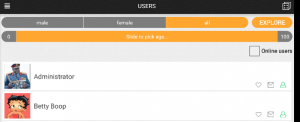 Click on user to inspect it or to open a chat conversation.
Note that "Online users" includes users that did not LOGOUT, meaning all users getting notifications even if not using WWChat at the moment.
User page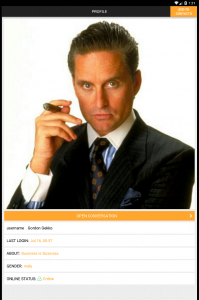 It shows you more information about users and allows:
To add the user to contacts.
Begin (or continue) a chat conversation with the user (see Wall for more information).
Groups
A group is a chat room that allows more than 2 users.
Groups can be public (open to everyone) or private (password protected, only users knowing password can access).

Top right corner's sub-menu allows to: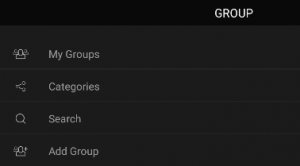 MY GROUPS: Shows previously chosen groups
CATEGORIES: Allows to browse groups by category
SEARCH: Allows to search groups by name
ADD GROUP: Allows to add a new group
Group Categories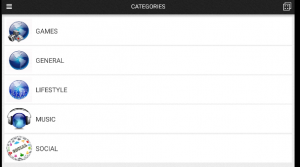 Categories are predefined and can be subject of change.
Click on a category to see its groups:

Then click on a group to see details and/or open a group conversation (see Wall for more information).
Search groups
It's possible to search groups by name, leave name empty to see all groups.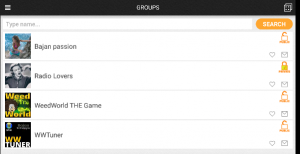 Then click on a group to see details and/or open a group conversation (see Wall for more information).
Add a new Group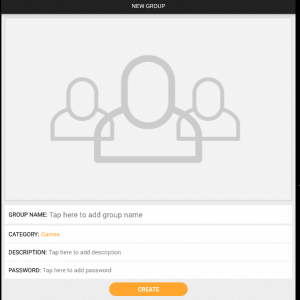 You need to supply:
GROUP NAME: A name (that must be unique)
CATEGORY: Assign new group to a category
DESCRIPTION
PASSWORD: if you want the group to be public (open to everyone) type public as password. Otherwise set a different password you must provide to allow users to the group.
You can also (optionally) assign a profile picture to the group.
Profile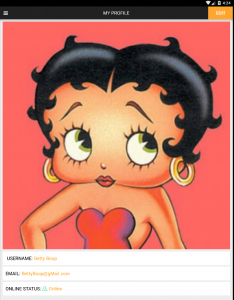 Here you see your personal information, click EDIT button to modify them: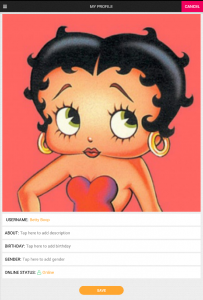 Click SAVE once you are done.
Note that only USERNAME is required, all other fields (and also profile picture) are optional.
Information

This page is reserved to WWChat team to publish communications to all users.
Settings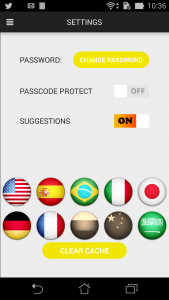 This page allows you to:
Set up a passcode
Passcode is a password you can use to protect your privacy, before to access WWChat you will be force to write the password (i.e. executing app, coming back from screensaver, etc.)
Activate / Deactivate Passcode Protection
Click the "Change password" to set up or modify the passcode, Click "PASSCODE PROTECT" to set protection ON or OFF.
Suggestions
Allows you to enable or disable hints while posting on the messages wall.
Change Language
Allows to change default WWChat language.
Note that this affects only application translation, to enable multiple languages, dictionaries and hints using soft keyboard you must configure it using standard Android's options.
User Support
If you need support from WWChat team, this is a direct link to a dedicated assistance wall.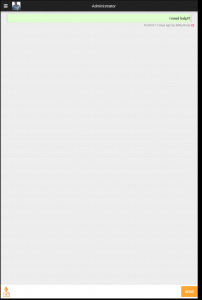 Logout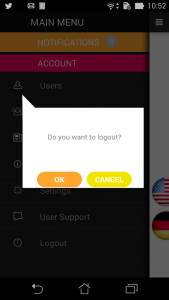 When you logout, you completely disconnect from WWChat services.
This way you will not receive notifications until you login again.
Also your status changes from "Online" to "Offline"
Note, that if you don't logout from WWChat, your status will be "Online" (or "Busy", "Away" if you changed it) even if you turn off your smartphone.
The Message Wall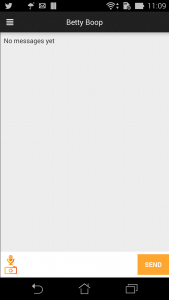 Conversation with a single user and group conversation are mostly the same, only difference is in the number of people that can access the conversation.
Text Message
It's possible to send text messages: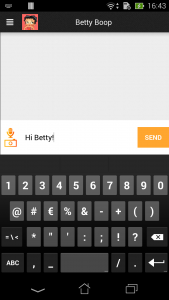 Just write the text and press SEND.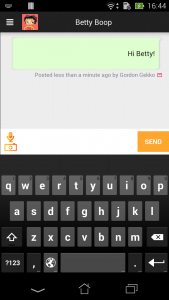 It's possible to add Emoji if your device allows to add emoticons on text.
(Note they are visible only on Android devices with version higher than 2.3!)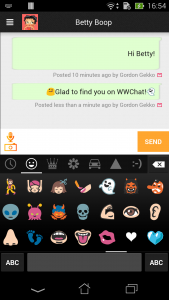 Media Files
To send emoticons and media files press the left/lower button:

Camera
To take and post a photo, press the CAMERA button.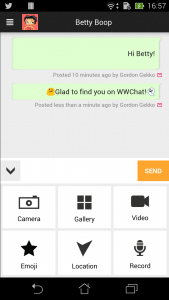 Take a photo, then press USE PHOTO to publish on wall: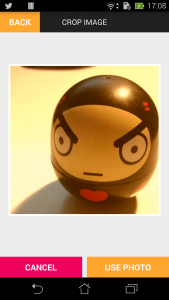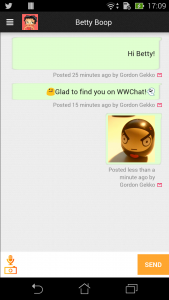 Gallery
To post an image file, press the GALLERY button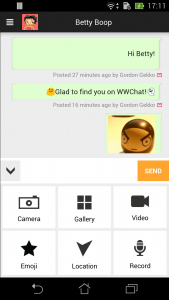 Select the image file, then press USE PHOTO to publish on wall: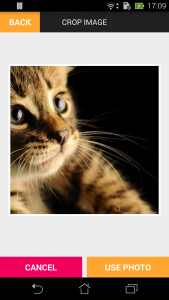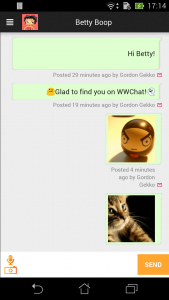 Video
IMPORTANT NOTICE ABOUT VIDEOS!
Note: this advice is valid for all your activities and all your mobile applications.
Video files can be very large, a 25 seconds video can be more then 25 MB.
This means that sending and receiving a long video can consume your internet credits if you are not connected by WiFi.
To post a video, press the VIDEO button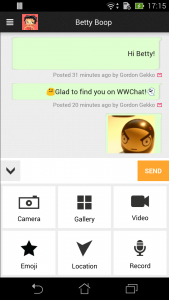 You will be prompted to record a new video or to select an existing video: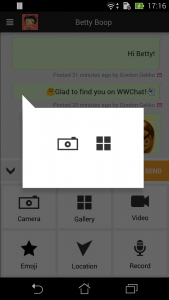 Note that video duration is limited, otherwise, due to internet speed, transfer of single video could take hours.
Long videos also are heavy sized, and time limit is intended to protect you from unintentional internet costs.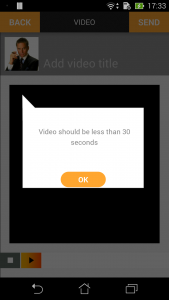 Once your video is recorded or selected, you can add a title, preview or send it: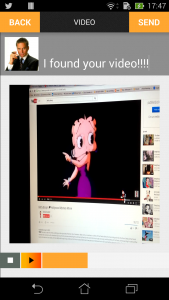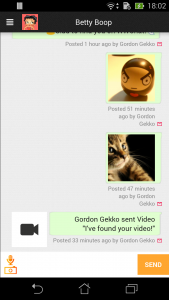 Emoticons (Emoji)
To post emoticons, press the EMOJI button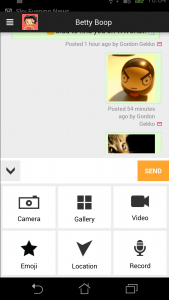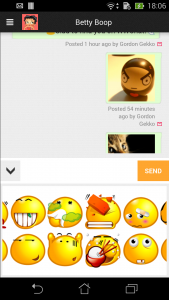 Tap on the emoticon to send it: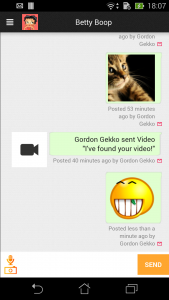 Location
Use the location button to send a GPS location: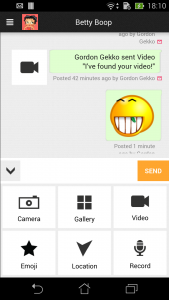 Set a location on the map and press SEND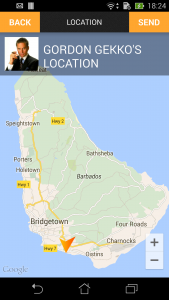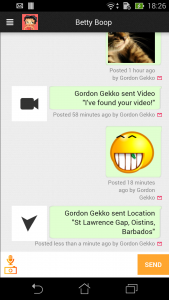 Send a voice message
Use the RECORD button to send a voice message: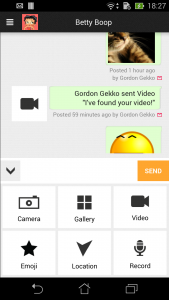 Tap to start recording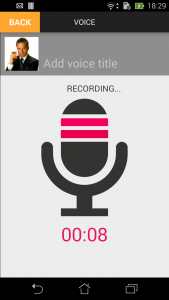 Tap again to stop recording.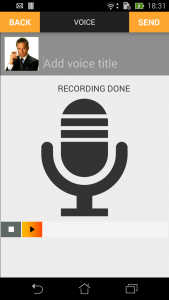 You can add a voice title, listen the audio or press SEND to publish on the wall.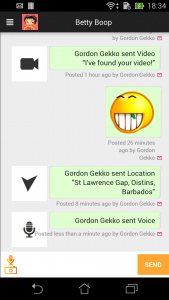 Delete a message
To delete a message, long press on the message: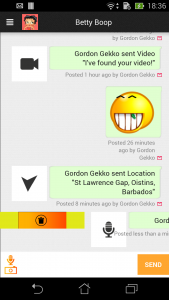 Then press the TRASH button: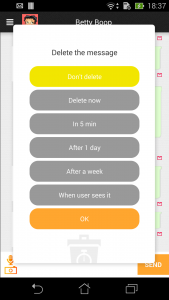 Press DELETE NOW then OK to delete immediately, otherwise choose a different moment for deletion.
NOTE: users can delete only their own messages.
Group Wall
Rules for posting on a group wall are almost the same of normal chat.
WWChat will give  you group notifications: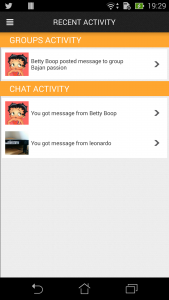 Group wall will show the profile picture of each member: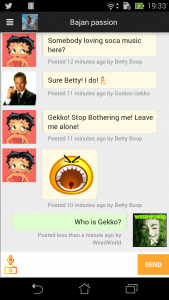 Disclaimer
Note that we frequently update WWChat, we want it to improve it day by day so screenshots or information of this tutorial could be not up-to-dated.